My Blog
Posts for tag: dental implants
By Jason H. Lee, DMD
September 29, 2015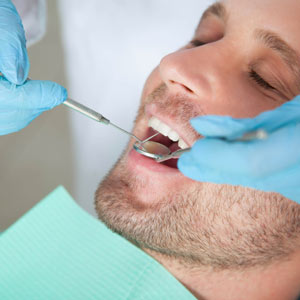 Semi-annual office cleanings are important for keeping teeth healthy and disease-free. If you've replaced some of your teeth with dental implants, though, you may be thinking they don't need as much attention from your hygienist.
It's quite the opposite — cleaning around implants is important, and actually requires additional attention. The reason for this relates to both how dental implants attach to the jaw and their constructive materials.
Natural teeth are held in place by the periodontal ligament with tiny fibers that attach to the teeth on one side of it and to the jawbone on the other. The ligaments and the gingival (gum) fibers (which are also attached to the tooth) provide some disease resistance to the teeth through its rich blood vessel and collagen network. Dental implants, on the other hand, anchor directly into the jawbone. The titanium integrates with the bone, which naturally attracts to the metal and grows around it, which provides the implant's eventual attachment strength. The implant doesn't attach to the gum tissue and won't develop the same relationship with the periodontal ligament as natural teeth.
Bacterial plaque, the primary cause for tooth decay and periodontal (gum) disease, can collect on an implant crown just as readily as on a natural tooth. Although the materials that make up an implant can't be affected by a plaque-induced infection, the gum tissues and supporting bone around it can. In fact, because implants lack the disease resistance of the gingival fibers and the ligament attachment, an infection can turn rapidly into a condition known as peri-implantitis that could cause bone and tissue loss and lead to the loss of the implant.
Your hygienist understands the importance of removing plaque and calculus (hardened plaque deposits) from around your dental implant. This often calls for different instruments made of plastics or resins that won't scratch the implant's highly polished surface. Scratches provide a haven for bacteria to collect and make it more difficult to dislodge them. Likewise, if the hygienist uses ultrasonic equipment that loosens plaque through vibration, the hygienist will often use nylon or plastic tips to minimize damage to the implant.
And don't forget your own personal hygiene habits — they're just as important with dental implants as with natural teeth. Keeping plaque under control, both at home and with your dentist, is crucial to longevity for your dental implants.
If you would like more information on maintaining and cleaning dental implants, please contact us or schedule an appointment for a consultation. You can also learn more about this topic by reading the Dear Doctor magazine article "Dental Implant Maintenance."
By Jason H. Lee, DMD
July 23, 2015
In real life he was a hard-charging basketball player through high school and college. In TV and the movies, he has gone head-to-head with serial killers, assorted bad guys… even mysterious paranormal forces. So would you believe that David Duchovny, who played Agent Fox Mulder in The X-Files and starred in countless other large and small-screen productions, lost his front teeth… in an elevator accident?
"I was running for the elevator at my high school when the door shut on my arm," he explained. "The next thing I knew, I was waking up in the hospital. I had fainted, fallen on my face, and knocked out my two front teeth." Looking at Duchovny now, you'd never know his front teeth weren't natural. But that's not "movie magic" — it's the art and science of modern dentistry.
How do dentists go about replacing lost teeth with natural-looking prosthetics? Today, there are two widely used tooth replacement procedures: dental implants and bridgework. When a natural tooth can't be saved — due to advanced decay, periodontal disease, or an accident like Duchovny's — these methods offer good looking, fully functional replacements. So what's the difference between the two? Essentially, it's a matter of how the replacement teeth are supported.
With state-of-the-art dental implants, support for the replacement tooth (or teeth) comes from small titanium inserts, which are implanted directly into the bone of the jaw. In time these become fused with the bone itself, providing a solid anchorage. What's more, they actually help prevent the bone loss that naturally occurs after tooth loss. The crowns — lifelike replacements for the visible part of the tooth — are securely attached to the implants via special connectors called abutments.
In traditional bridgework, the existing natural teeth on either side of a gap are used to support the replacement crowns that "bridge" the gap. Here's how it works: A one-piece unit is custom-fabricated, consisting of prosthetic crowns to replace missing teeth, plus caps to cover the adjacent (abutment) teeth on each side. Those abutment teeth must be shaped so the caps can fit over them; this is done by carefully removing some of the outer tooth material. Then the whole bridge unit is securely cemented in place.
While both systems have been used successfully for decades, bridgework is now being gradually supplanted by implants. That's because dental implants don't have any negative impact on nearby healthy teeth, while bridgework requires that abutment teeth be shaped for crowns, and puts additional stresses on them. Dental implants also generally last far longer than bridges — the rest of your life, if given proper care. However, they are initially more expensive (though they may prove more economical in the long run), and not everyone is a candidate for the minor surgery they require.
Which method is best for you? Don't try using paranormal powers to find out: Come in and talk to us. If you would like more information about tooth replacement, please contact us or schedule an appointment for a consultation. You can learn more in the Dear Doctor magazine articles "Crowns & Bridgework," and "Dental Implants."
By Jason H. Lee, DMD
June 08, 2015
If you're considering different options for tooth replacement, dental implants are likely high on your list. Implants have a proven reputation for both durability and life-like appearance that can restore mouth function and revitalize your smile.
There is one aspect concerning implants, however, which gives people pause — the surgical procedure required to place the implants in the jawbone. If you're leery about undergoing this procedure we can put your mind at ease — for most patients implant surgery is a minor, pain-free process with little discomfort afterward.
While there are variations in style, implants generally have two major components: a titanium post that's implanted into the jawbone and a permanent life-like crown that's affixed 6 to 12 weeks after implant surgery. Titanium is the metal of choice because of its affinity with bone cells; over time bone will grow to and attach itself around the implant, a process known as osseo-integration. The metal post is normally spiral in shape, allowing it more surface area for bone to adhere to.
In the beginning of the procedure we administer local anesthesia to fully numb the area before proceeding. After accessing the bone through tiny incisions in the gum tissue, we create a small channel in the exposed bone. A surgical guide may be used to prepare the precise location for the implant with a series of drilling sequences that increases the channel until it matches the implant size. While this takes place, you should only feel a mild vibration and a little pressure from the drill.
The implants are then removed from their sterile packaging and placed immediately into the prepared site. The gum tissues are then sutured into place with self-absorbing sutures. Most people have only mild discomfort after the surgery that can be managed with a prescription-strength non-steroidal anti-inflammatory drug like ibuprofen. We may also prescribe antibiotics and other care instructions to ensure successful gum tissue healing.
With proper planning and precise implant placement by skilled hands, implant surgery is an easy and uneventful procedure. And, with your new crowns in place, your new, beautiful smile will make the experience a distant memory.
If you would like more information on dental implants, please contact us or schedule an appointment for a consultation. You can also learn more about this topic by reading the Dear Doctor magazine article "Dental Implant Surgery."